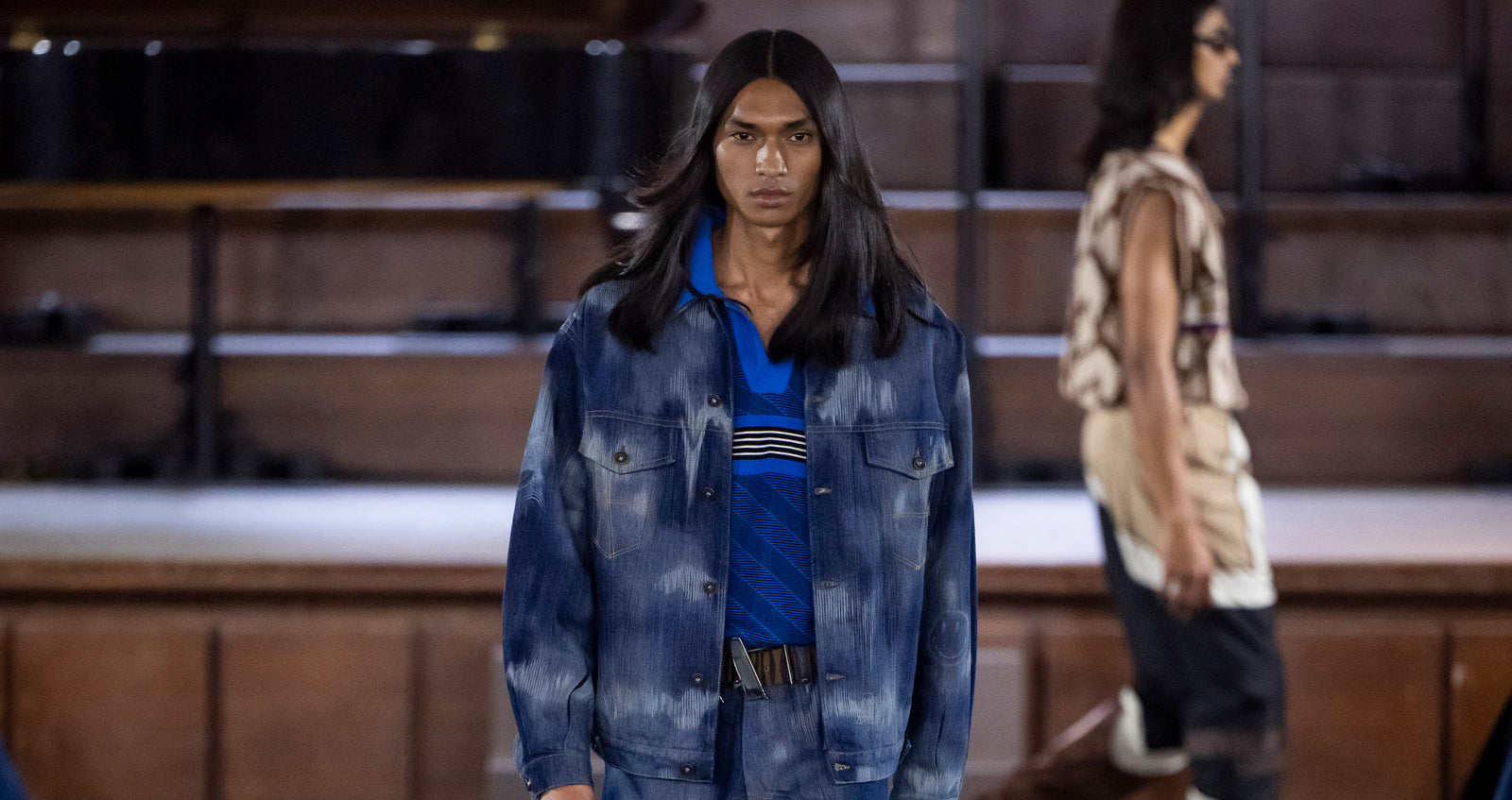 AW23 Denim Story
For Symphony AW23, the runway was sedulous rife with sunset-hued ensembles, exaggerated plush velvet collars, and soundwave motifs running through shirts. But it was denim that dominated the runway.

This season, a flurry of looks were constructed using upcycled denim from deadstock fabrics and vintage denim clothing. From jackets to low-rise jeans and mini skirts, the collection reimagined all the ways in which the Ahluwalia customer - or admirer - could be consciously stylish and fashion-forward. All denim garments were made from an Oeko Tex certified denim cotton, of which has achieved high industry standard. Identifying that the industry continues to have a problem with deadstock materials, AW23 was yet another opportunity for Ahluwalia to lead the charge in repurposing and reducing the impact of deadstock. Our creative director, design and development are widely invested in the execution of this, going to and enlisting the help of fabric mills and in turn, creating alluring and well-made luxury garments.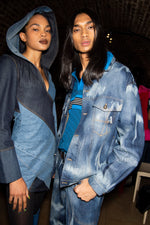 With music at the forefront of Symphony, it was natural that denim would somehow make its way into the collection for AW23. For the show's soundtrack, Ahluwalia worked with Woodgrain Studio to curate an eclectic mix of sounds that filled the (roughly) 14 minute show with immense nostalgia, leaving many rushing to add beloved songs to their playlists. As the audience shifted, bounced and toe-tapped in their seats, it was clear that not only was the music booming, but the clothes were too - and denim played a key part in that.
Songs such as Sade's Kiss of Life, Lauryn Hill's Doo Wop (That Thing), and Mario's Just a Friend to Gyptian's Hold Yuh and Wayne Wonder's No Letting Go, these staple sounds from the late 80s to 90s were an important backdrop for denim's history, and the heavy fabric certainly proved its durability. At present, it remains a principle material for those in-the-fashion know and is a wardrobe must.

A motif that ran throughout the collection was soundwaves and or diamond-shaped patterns that served as nods to inspirations that showed up in its research. From vintage guitars to traditional South Asian instruments, their intricate etches inspired the design elements emblazoned on much of the garments in Symphony, and the denim pieces especially showcased that.

Ingrained in the seams and foundation of the brand is durability, and for Symphony, its denim pieces added that everlasting touch. It was only right that for a collection that served as a celebration of Ahluwalia's own Indian-Nigerian heritage, from Priya's youth and upbringing to the moments that inspired her along the way, that denim followed suit as well.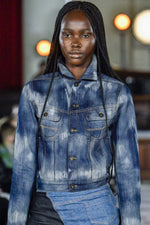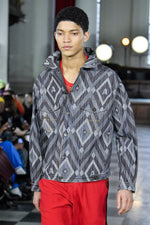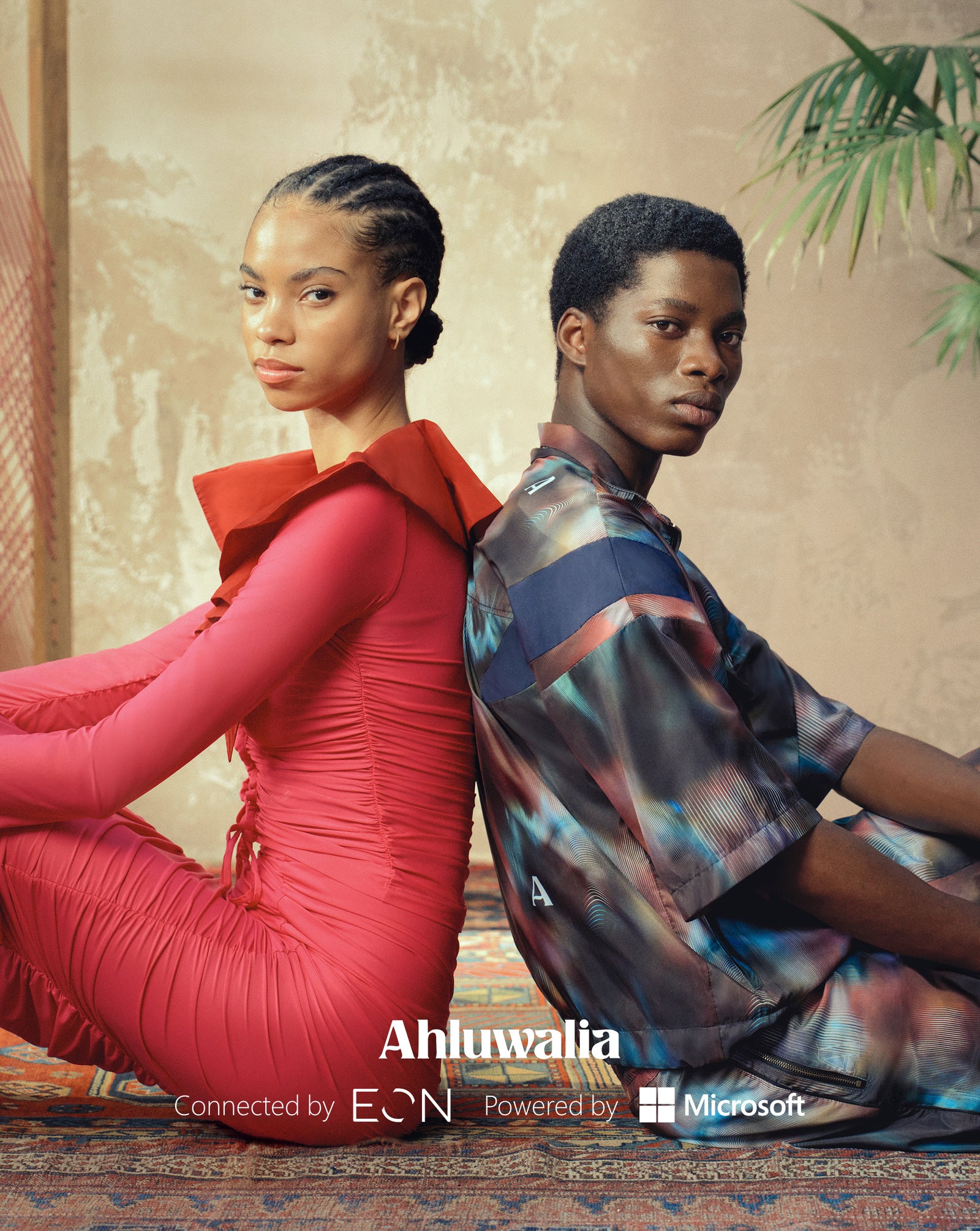 Ahluwalia presents Autumn Winter 2023 'Symphony collection', connected by EON. Powered by Microsoft. The collection and the stories behind them are connected by EON's cutting-edge digital ID technology, and powered by Microsoft Azure. Creating an experience that transcends clothing.
These digital identifiers can be found on the garments above the care label and can be easily accessed through a smartphone or other devices to provide a wealth of data including the detailed information about the garment, materials used, care instructions along with exclusive content from the collection. Empowering our community to make more informed decisions and choosing products that align with their values for a deeper connection.
Discover the story and collaboration
here
.